Today was a fantastic day. Why? Because today was Sunday the 6th and three years and two months ago is when I suffered my dreaded bilateral rupture while skiing at Steven's Pass. Today was the first time back on skis and it felt amazing. I was wondering how my legs would do even though it has been over 3 years, but I knew deep down inside that they would hold up just fine. However, there is always the feeling of uneasiness for me with doing the exact same activity that resulted in the original injury.
I made it a point to ski again with my friend Jill who was the one who was there that fateful morning 3 years ago and took those photos of me lying down in the snow surrounded by the three ski patrol personnel. So I had to make sure that I get a few photos of me near the exact spot looking as goofy as can be.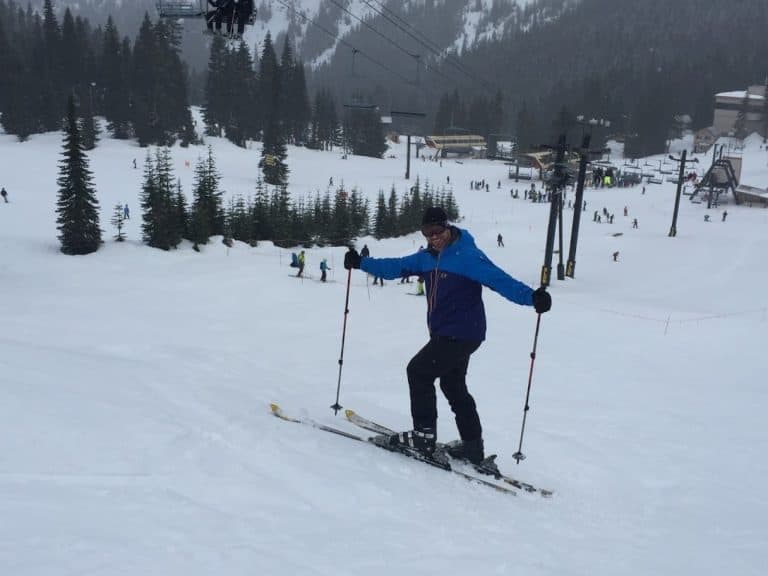 It took only a few runs for me to be warmed up enough to ski a little faster and carve some nice turns. We started on the Hogsback chair and went down a couple of times before going over to the Skyline chairlift. The visibility sucked for sure as it was very overcast and it was hard to see the in the beginning but later in the day the sun crept out and made for better visibility and more enjoyable skiing. We decided to try the backside of Steven's Pass in hopes of better snow, but no such luck. It was the same kind of slushy condition but we made the best of it and got in some really nice runs. There was even a new trail that I have never seen before that made for some great turns in between the treeline.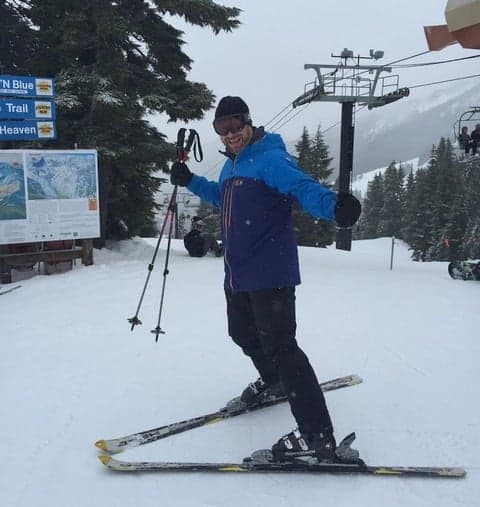 After a few runs on the backside we decided to break for lunch and reflect back on the event that took place in 2013. There was a point in my life some time ago that I actually thought I would never ski again. It was fear taking over because I didn't want to take another chance of having a third encounter of this dreaded injury. Jill said she was proud of me that I came back to ski again and I was too.
Skiing has been a part of my life since the age of 4 when my dad taught me and my brother how to ski in Austria. Unlike my brother, I kept skiing and got better and better which made skiing so much more enjoyable. Like bodybuilding/working out, it has become a lifestyle for me and it isn't something I can just give up. I plan to ski until the day comes that I can no longer do so, but until that day comes I look forward to many more years of fantastic powder shredding.
My plan for the next upcoming years is to travel to some more amazing ski destinations. I had the pleasure of skiing Utah back in 2009 and it was some of the most amazing skiing that I have ever done.